The University of Missouri is is home to more than 33,000 students and 2,000 faculty. We are in the middle of a state that's in the middle of the country seeking the farthest reaches of what is possible. Our diverse and thriving campus is nestled in the heart of downtown Columbia serving all walks of life. The perfect blend of small town and flourishing city, Columbia is consistently rated among the top places to live in the nation. This is where opposite ideas attract, grand challenges are explored every day, and where rigorous study meets the real world.
Eight summer programs are under the umbrella of the Office of Undergraduate Research (see list below.)
All programs affiliated with the Office of Undergraduate Research run May 28– July 26th, with travel days on May 37th and July 27th (9 weeks). Students live in on-campus air-conditioned housing (double rooms), and receive a meal plan paid by the program. Many programs provide one credit hour of research, travel to and from Columbia, and stipends range from $3,400 – $5,400.
Coordinated by the MU Office of Undergraduate Research, the Summer Undergraduate Research Program hosts 50+ students from institutions across the nation. Interns in the program participate in educational and social activities and numerous outings planned by the interns themselves creating a vibrant, inclusive, and welcoming summer community. Under the guidance of an MU faculty mentor, students work on their own projects in collaboration with graduate students, lab technicians, and post-doctoral researchers and will showcase their results at a poster Forum on July 25th.
Eligibility
Applicants must have completed at least one year of full-time college enrollment prior to June 2024. Students should be pursuing a major in fields related to the program for which they are applying. Students graduating before December 2024 are not eligible. Students must be citizens or permanent residents of the U.S. See information on individual programs for additional requirements.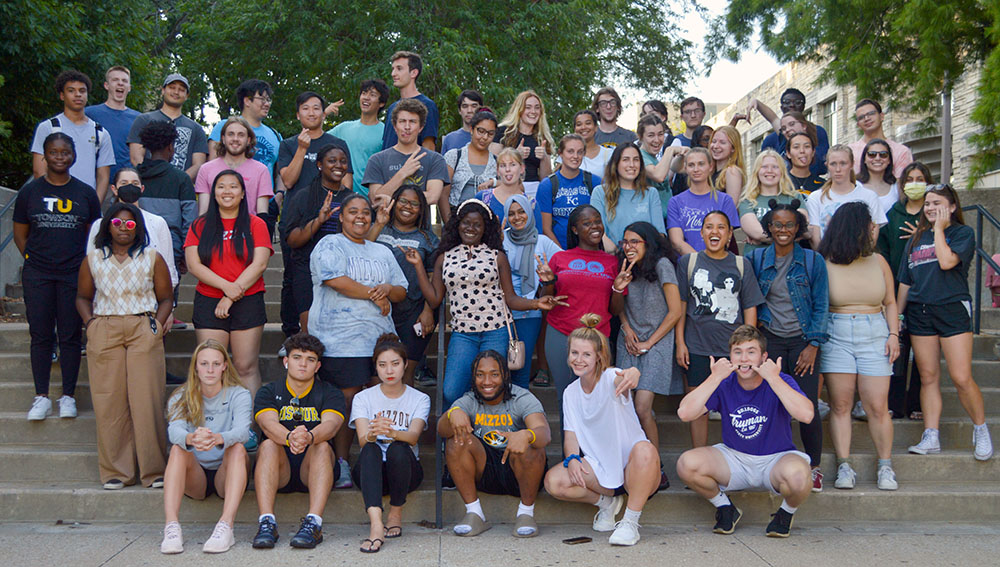 Most programs are for visiting students only. Students currently in enrolled at Mizzou are generally not eligible. Check program details for more information.
Educational Programming
As part of the program, students participate in seminars designed to provide information about research, career preparation and options, and scientific ethics. Weekly small group seminars provide opportunities for students to focus on a topic and engage in discussion with peers and faculty. Social activities also provide opportunities for participants to get to know each other. Mandatory orientation sessions will be held May 29 & 30, 2024.
The MU Office of Undergraduate Research, and therefore the Summer Undergraduate Research Program, is committed to fostering an inclusive community of researchers, free from discrimination and harassment as defined in MU's Student Standard of Conduct and Human Resources policy. As visiting students on the MU campus, participants in the Summer Research Internship Program join current MU students, faculty, and staff in holding the following values as the foundation of our identity as a community: Excellence, Respect, Responsibility, and Discovery. Upon this, we strive to build a comprehensive, engaging learning experience for all persons involved in this program.
We encourage students with disabilities to apply for this summer opportunity. We will engage in the process of determining and securing accommodations with all students selected for the program.
Learn about Columbia
Columbia, Missouri is a small town with a big city feel. With a vibrant downtown steps away from the Mizzou campus, there is lots to explore. With many parks also within walking distance to campus you can find biking, hiking, running, and walking trails; skateboard parks, and fishing spots.
Local is loved in CoMo…lots of art galleries, boutiques, coffee shops, music venues, and restaurants. First Fridays are a fun event for you to go and explore each month.
Enjoy your time away from the lab by exploring what CoMo has to offer.
Unless indicated otherwise, the application deadline for each program is February 11th, 2024. Please visit each site for more program information and the application links.
Applications to open in November 2023.
Application deadline: March 24, 2023
Other Mizzou programs for visiting students:
Here is a list of Summer Programs at MU for Mizzou undergraduate students:
Click here for a list of some EXTERNAL Summer Programs for Mizzou undergraduate students.
Impact of COVD-19
In response to the COVID-19 pandemic, the University of Missouri and Boone County Department of Public Health have established guidelines and protocols designed to minimize risks from the disease. More details about these plans can be found at the following websites:

https://renewal.missouri.edu/
https://www.como.gov/coronavirus/
Students who participate in this program will be expected to follow all university and county public health guidelines.