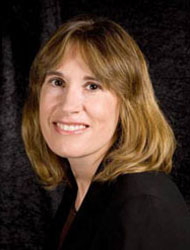 Communication Science and Disorders
A colleague describes Stacy Wagovich as "unflagging in efforts to develop research experiences for undergraduate students." Those efforts have been recognized as Wagovich, an associate professor of communication science and disorders in the School of Health Professions has been honored with the Outstanding Undergraduate Research Mentor Award for 2016.
Wagovich was nominated by students in her lab. One of the student nominators described noticing Wagovich's supportive nature immediately upon joining the lab. "She inspires students to be their best selves and to reach slightly out of their comfort zones to accomplish great things," the nomination reads.
"As a faculty mentor, it has been important to me to provide encouragement and a stimulating environment that celebrates new ideas," Wagovich says. "In addition, a faculty mentor fosters a confidence-building culture of support within the lab group, where everyone in the group is invested in the work. We all serve as a source of knowledge and assistance for each other."
Wagovich runs the Language and Fluency Lab at MU. Her research interests include the role of language and information processing in children who stutter, the word learning process in school-age children and the use of language sample analysis procedures in the assessment of language disorders.
Another student nominator says that Wagovich "genuinely cares about my success as both a student and researcher, and continuously pushes me past my personal expectation. She is there every step of the way to make sure I am successful."
For Wagovich, the most rewarding part is watching students grow, from observing and assisting others with projects, to developing and conducting their own projects.
"When students present their work for the first time, what an incredible moment, as they realize they have made a contribution to the knowledge base of their field," she says. "I like to think that it changes the way they read and appreciate the research of others."
She says that working with undergraduates in the lab charges—and re-chargers—her.
"My students' accomplishments are a source of great pride," Wagovich says. "Even witnessing students' engagement and excitement about the day-to-day work is inspiring. I particularly enjoy those moments when students realize that, even as beginners, they are making a contribution to our work."