Published on May 20, 2016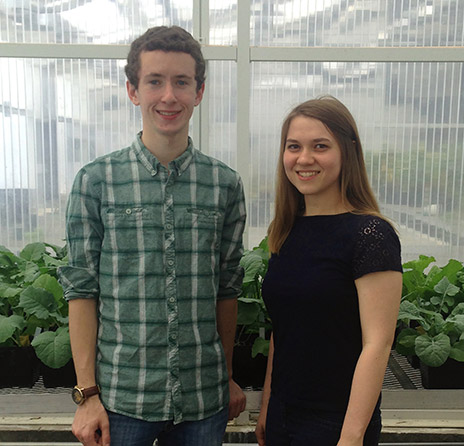 A lot of Mizzou students spend their study time staring at computer screens and books. Julia Brose and Alex Clarke have opted to stare at plants, and it's a decision that's earned them noteworthy fellowships this summer.
Brose and Clarke, both sophomore biochemistry majors at MU, have been selected for a Summer Undergraduate Research Fellowship through the American Society of Plant Biologists (ASPB). The fellowship funds students' research for 10 weeks and travel to the national ASPB meeting where they will present their results. Only 15 students from across the U.S. were selected for the fellowship this year.
Both Brose and Clark began conducting undergraduate research with the Freshman Research in Plant Sciences program (FRIPS). The FRIPS program funds first-year students' work in a plant biology lab.
"I went into it with the goal of being in a lab by the end of my first semester or the start of the next," Brose says. Just a few weeks into the semester, the FRIPS program had helped her accomplish that goal, and get paid, too.
Five Mizzou students have been selected for the ASPB summer fellowship in the past two years and four of those began undergraduate research through the FRIPS program.
Brose works with Chris Pires in the biological sciences department and Clarke works with Antje Heese in the biochemistry department.
"I met with Antje and she made it clear that she puts all of her effort into helping students succeed," Clarke says.
Once students are paired with professors, they help with the research in that lab. Brose and Clark have been working on progressive projects since the start of their freshman year. Currently, Brose studies the genetic evolutionary relationships among brassica plants, which include common foods such as cabbage, kale, broccoli and cauliflower. Clarke is researching how plants protect themselves against microbial pathogens at the cellular level and how that can apply to common crop species such as corn and soybeans to develop more bacteria-resistant plants.
Both students will be continuing their research over the summer through the ASPB fellowship. Brose will travel to Stanford University to further her research on brassica plants. She will be looking for chemical defense compounds in the roots of brassica plants that protect them from pathogens.
"No one has ever looked there before," she says. "Hopefully we will find those defenses that can be used so we can put them into a more resistant plant."
Clarke will remain in Columbia to continue his research of plants on the cellular level, but will dive further into biochemistry, something that he hasn't yet been able to do.
"I'm really excited because it is something I've learned about, but now I'm taking it another step up and going really in depth," he says. "I'm really excited about the result because I think I can find something interesting based on my past research."
Brose says her dream job is in academia as she hopes to work at a research institution. Clarke would like to conduct research, ideally for a large agricultural company to help improve crop species.
Until then, though, both will continue spending hours in the lab.
"I love being in a lab," Brose says. "You spend so much time here and you become a lab family."
"Everyone is really supportive of each other and always willing to help out," Clarke adds. "I've had a really fun time. It's a great atmosphere."