---

The Visual Art and Design Showcase is a venue for Mizzou undergraduate students to display and discuss their scholarly work in an exhibition setting. The works feature a variety of artistic expression and applied design, including works of photojournalism, graphic design, architectural drawing, theatre set design, painting, sculpting, textile and apparel design, mixed media, and digital storytelling.
What kind of projects are exhibited in the Visual Art & Design Showcase?
Projects fall into the following categories: video; photography; art; interior design and architectural studies; textile and apparel management; strategic communications and graphic design; theatre; and an open category. The open category includes floral and landscape design and other projects that don't fit into the other categories. The most important part is that all projects must have a visual element central to the work.
What does 'Faculty Mentored' mean?
A faculty mentored project means the student has sought advice or received consultation on the project from an appropriate Mizzou faculty member.
Please Note: This does not mean the project was created for a class assignment, though it could be. If you have a creative project that you made outside of class, but have gone to an instructor to get feedback on it, THAT is a mentored project!
Students submit projects on their own, they are NOT faculty nominated.
Make sure that your faculty mentor knows that you are listing them as your mentor for this project on your application.
Sponsors
Office of Undergraduate Research
Showcase Commitee
Chair: Linda Blockus, Undergraduate Research
Lesleighan Cravens, Plant Sciences
Katina Bitsicas, Digital Storytelling/Film Studies
Kat Duncan, Journalism
Lee Ann Garrison, Art
Andrea Heiss, Journalism
Deborah Huelsbergen, Art
Sarah Humfeld, Undergraduate Research
Joe Johnson, Photography
Nicole Johnston, Textile and Apparel Management
Desireé Moore, Digital Storytelling/Film Studies
Christian Rozier, Digital Storytelling/Film Studies
Heather Tearney, Undergraduate Research
Debora Verniz, Architectural Studies
Marc Vital, Theatre
Ric Wilson, Graphic Design

Previous VADS Programs
2016 VADS Program
2017 VADS Program
2018 VADS Program
2019 VADS Program
2020 VADS Program
2021 VADS Program
2022 VADS Program
2023 VADS Program
There are two main categories for awards "Artistic Expression" and "Applied Design". Within each of these categories four (4) winners will be selected by the jurors. Other awards are 'selection' awards, those chosen by those sponsors/groups – these do not have any monetary value to them.
Artistic Expression
Grand Prize: $2,000
Runner-Up: $1,000
Awards of Merit (2): $500
Applied Design
Grand Prize: $2,000
Runner-Up: $1,000
Awards of Merit (2): $500
People's Choice Award – $100
Other Awards
Ragtag Cinema Video Award
Columbia Art League Award
Jonathan Asher Award
MU Libraries Award
Faculty Mentor Awards
Faculty Mentors whose student receive the Grand Prize award in a category will receive an award of $300.
To see a list of the previous years' award winners scroll to the bottom of this page.
Below is a timeline of the 2024 Visual Art & Design Showcase. If you have any questions, please contact us at ugr@missouri.edu.
2024 Schedule
Feb. 28th – Submissions Due
Mon., March 11th – Students Notified of Acceptance
Tues. & Wed., March 19th & 20th – Students Consult with VADS Curator at the Columbia Art League
Wed. & Thurs., April 3rd & 4th – Online Jurying via Zoom
Sat., April 6th – Projects installed at the Columbia Art League
Mon., April 8th – TBD, Screening of 2024 VADS Videos
Mon., April 8th – 6-8 p.m., Reception for the 2024 VADS Exhibition at the Columbia Art League (open to all)
Friday, April 12th – 3-4 p.m., Show Me Research Week Awards Ceremony, Monsanto Auditorium
Sat., April 20th – Projects picked up from the Columbia Art League
Where do I start?
We have resources to help you get started! Information sessions and workshops will help answer all the questions you have about VADS! We have recordings from previous workshops that are available to you to watch at your own pace.
"How to Photograph Your Art"
"How to Write an Artist Statement"
"Creating an Artist Statement Video"

The Office of Undergraduate Research is available to meet with you individually to discuss your project and any questions that you may have. You may contact them at ugr@missouri.edu or MU Connect to set up an appointment.
Students are highly encouraged to review these two handouts:
2024 VADS Tips and Tricks for Submitting Your Project
Please share this opportunity with your students, whether in class or as an extracurricular activity.
If you are interested in having someone come talk to your class about VADS, please contact us at ugr@missouri.edu.
As a mentor, how may I assist the student? What should I expect to do?
During the creation process:
Provide feedback on the project/art prior to completion.
Encourage the student to view past Showcases so that they see the end products of other projects.
During the submission process:
Provide feedback on and/or assist with drafting the Artist Statement. This will be used to determine if the project will be selected into the Showcase, shared with guest jury members, and made available to the public.
Provide feedback on the project title.
Assist in selecting which images are submitted for consideration into the Showcase.
If your mentee's project is selected for inclusion in the Showcase:
Develop talking points with the student for the guest jury evaluation (which will be via Zoom).
Review the experience with the student after the Showcase.
Complete a short survey to help improve the Visual Art & Design Showcase for future years.
To view a PDF of the application form, click here.
2024 applications are due by noon on Wednesday, February 28th.
Below are some of the art projects submitted to the 2023 Visual Art & Design Showcase. To view the full exhibition, read the artist statements, and watch the artist statement videos visit the MU Libraries Digital Archives here. You may also view the 2021, 2022, and 2023 online exhibitions here.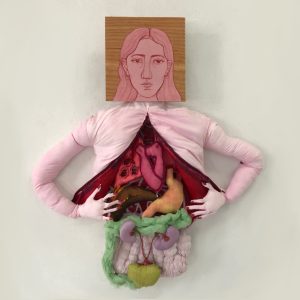 Previous VADS Winners
MU Libraries – Exhibition Award
Mara Fenwick – "Magic Bubble", textile and apparel management
Alyssa Pierson – "Tinker and Bell", textile and apparel management
Art & Archaeology Museum – Exhibition Award
Jack Rintoul – "Love & Suspense", graphic design and strategic communication
Columbia Art League – Selection Award
Hannah Gundlach – "Sitting Ducks", art
Jonathan Asher Photography – Selection Award
Lilyann Hames – "Wear Me Out", photography
Applied Design
First Prize – $2,000
Brooke McKee – "Tie the Bow", textile and apparel management
Second Prize – $1,000
Sydney Flowers – "Columbia Performing Art Academy", architectural studies & interior design
Third Prize – $500
Abby Blenk – "Entropy of a Memory", video
Sydney McClintock – "Killing V', textile and apparel management
Artistic Expression
First Prize – $2,000
Danielle Hardy – "Golden Air", video
Second Prize – $1,000
Kylee Isom – "MAKE ME FEEL GOOD", photography
Third Prize – $500
Jordyn Gobble – "A Neighborhood of Idolized Longing", art
Krislyn Hollis – "Carnevale an Introspection", art
Honorable Mentions
Kennedy James – "Paper Hearts", graphic design & strategic communication
Darreon Carbin – "When Day Breaks and Night Falls", art
Reese Betts – "Digital Naiveté", video
Summer Parker – "Book of Fears", art
Caycee Roth – "Bad-Ass Greeting Cards", graphic design & strategic communication
Alonzo Williams – "Refocus", video
People's Choice
Mara Fenwick – "Magic Bubble", textile and apparel management
Faculty Mentor Awards
Desireé Moore – Mentee, Danielle Hardy for "Golden Air"
Kerri McBee-Black – Mentee, Brooke McKee for "Tie the Bow"
Ragtag Cinema – Film Screening
Svetlana Wunnenberg for 'M(a)notinist', a video
MU Libraries – Exhibition Award
Kailyn Hill for 'see us', art
Art & Archaeology Museum – Exhibition Award
Marc Chauvin for 'Historical Dissonance', photography
Columbia Art League – Selection Award
Danielle Hardy for 'Facets of the Black Experience', photography
Jonathan Asher Photography – Selection Award
Kylee Isom for 'WHERE DRAPES MEET CARPET', photography
Applied Design
First Prize – $2,000
Katie O'Russa for 'Don't Erase Me', strategic communication & graphic design
Second Prize – $1,000
Svetlana Wunnenberg for 'M(a)notinist', a video
Third Prize – $500
Olivia Childs for 'Unseen Feelings', strategic communication & graphic design
Emily Werner for 'Origami Hyperboloids', open
Artistic Expression
First Prize – $2,000
Kailyn Hill for 'see us', art
Second Prize – $1,000
Moy Zhong for 'ABC? (American, But Chinese)', video
Third Prize – $500
Kylee Isom for 'WHERE DRAPES MEET CARPET', photography
Daniel Roman for 'Two Step', video
Sager Braudis Gallery – Scholarship & Exhibition Award
Jessica Tifase for 'The Harvest' – mentor Joe Johnson
Ragtag Cinema – Film Screening
Sofia Voss for 'I Think of You Often' – mentor Kamau Bilal
MU Libraries – Exhibition Award
Amy Frisella for 'Ellis Library Addition' – mentor Robert Walsh
Art & Archaeology Museum – Exhibition Award
Kyle Yerby for 'personal Protective' – mentor Catherine Armbrust
Columbia Art League – Selection Award
Lauren Fyle for 'Still Lives of My Room' – mentor Mark Langeneckert
Applied Design
First Prize – $2,000
Amberlee Gandy & Grace Anderson for 'Funeral for One' – mentor Lesleighan Cravens
Second Prize – $1,000
Maddy Gomez for 'Mariposa' – mentor Nick Potter
Third Prize – $500
Rose Shirkey for 'Birthday Toast[ed]' – mentor Marc Vital
Grant Burress for 'Through the Fire' – Christian Rozier
Artistic Expression
First Prize – $2,000
Jessica Tifase for 'The Harvest' – mentor Joe Johnson
Second Prize – $1,000
Eliza Finck for 'I Don't Know How, But They Found Me' – mentor Anna Wehrwein
Third Prize – $500
Kylee Isom for 'HOME/BODY' – mentor Joe Johnson
Sofia Voss for 'I Think of You Often' – mentor Kamau Bilal