Published on April 29, 2019
Updated on March 3, 2020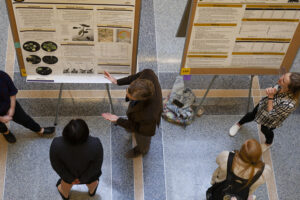 When Kiet Le describes his approach to the project he presented at the 2019 Undergraduate Research & Creative Achievements Forum, he uses phrases such as "plan of action," "remaining steady" and "not diverging from the task." Surely such rigid and uncompromising language must refer to one of the hard sciences, right? Not necessarily.
"My sculpture is about the human spirit and overcoming obstacles," says Le, an art student from Liberty, Missouri, who begins a master of fine arts program this fall. Le's two bronze pieces — titled Torment and Endure — stand about 15-inches high and depict a male and female figure contorting as they battle unseen forces.
"You might find yourself caught between the middle road and overcoming it," says Le, whose creative process is informed by five years in the U.S. Navy. "We can all relate to that moment."
Le was one of 285 students presenting their work at the Forum April 23 in the Bond Life Sciences Center. The event gives undergraduates — from any major and all academic levels — the opportunity to present their research and scholarly achievements to the Mizzou community.
Across the room, architectural studies student Coulton Becker presented a colorful rendering, and 3D model, of his ambitious community church design. His faculty mentor in the department, Robert Walsh, warned him about the challenges of creating a worship space that is both functional and visually inspiring.
"I wanted a challenge," says Becker, a senior from Williamsville, Missouri. "I grew up in the church, I was raised Methodist and my mom is the choir director in Poplar Bluff."
Becker's project began with a photo of Antelope Canyon, a popular red rock hiking destination in Arizona known for its majestic beams of light. He used hand-made physical models to study the light, then applied what he learned to his computer renderings. The church features red wooden slats that echo the canyon and a towering cross cutout in the sanctuary through which the morning sun would theoretically shine.
"Dr. Walsh has been a great mentor, challenging me every step of the way," Becker says. "He's actually the one who encouraged me to come to this event."
The Forum also honors undergraduate mentorship, recognizing the 2019 Outstanding Undergraduate Mentor Award winners Ferris Pfeiffer, assistant professor of biomedical, biological and chemical engineering; and Paula McSteen, associate professor of biological sciences.