Published on Nov. 10, 2016
Through conducting research, Jennifer Sanders found her calling: helping and working with people. She hopes to help students discover their passions, too as the new assistant director of MU's Office of Undergraduate Research.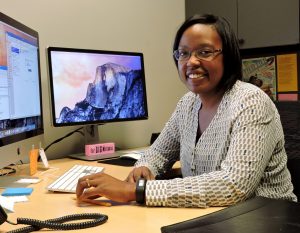 "Research is something that was very meaningful to me, and so it's really an honor to be in a position to work with students who are on that same journey and path of discovery I was on," Sanders says.
Sanders started conducting research when she was an undergraduate student. To enhance her studies, she researched a variety of topics, including the chemical makeup of certain proteins and how coffee stains develop. Although she liked doing lab work, she realized that the aspect of research she enjoyed most was collaborating with fellow scientists and students.
"Through my research experience, I found out that I wanted to meet and work with other people," Sanders says.
After graduating with bachelor's degrees in physics and engineering from Westminster College and Washington University in St. Louis, Sanders decided to dedicate her career to working with undergraduate students. For four years, she served as a residence hall coordinator for MU's Department of Residential Life. That experience helped her learn how to supervise, assist and communicate with students. But when she was offered the position with the Office of Undergraduate Research, she knew she had found her dream job.
"I feel like this position is my destiny," Sanders says. "When this job opened up, I realized it was the perfect way to do everything I want to do. Not only is it a great way to give back to all the people who invested in me, but it's also a chance to tell people how research changed my life and how it can change their lives, too."
As assistant director, Sanders hopes to promote the undergraduate research experience at MU and create and enhance research opportunities for students. To achieve these goals, Sanders plans to show students and faculty that research is not just for scientists, mathematicians and engineers. She wants to demonstrate that important research is conducted in all disciplines, including fields such as music, journalism and art.
"When you think of research, you immediately see beakers and lab coats and sterile rooms, but research does not look only one way," Sanders says. "The experience is different for everyone, so I really like the idea of broadening the understanding of what research is and then communicating that to a large group of people."
Sanders will also assist in the organization of various events designed to recognize and acknowledge the research and creative work MU students do. She is currently helping to arrange the Undergraduate Visual Art & Design Showcase, which gives students the chance to exhibit works of photojournalism, graphic design, architectural drawing, theatre set design, painting, textile and apparel design and digital storytelling. She is also aiding in the coordination of MU's Undergraduate Research Day at the Capitol, an annual event at which students share their research experiences with state lawmakers in Jefferson City.
Sanders believes it is essential to promote diversity in research. She wants to reach out to students from all backgrounds and connect them to meaningful learning experiences.
"As this campus looks toward diversity and inclusion, it has to be a part of the conversation in research, too," Sanders says. "I want to make sure that what we are doing in this office is representative of what is happening on campus and of everyone here."
In an effort to attract more students, Sanders plans to emphasize the benefits of conducting research. She believes doing research improves critical thinking skills and instills commitment and dedication. She also says research is empowering.
"If we want students to feel engaged and empowered, then doing research is a great way to do that because it gives them a voice," Sanders says. "As a student doing research, you decide what questions to ask and you choose your direction and what you want to present."
Although she is still new to her position, Sanders is already striving to ensure that all students feel connected to her and to the resources the Office of Undergraduate Research provides.
"I want to be a part of the journey for all students who want to do something meaningful and important, but who don't know where to go," Sanders says. "I want to be able to point them in the right direction."