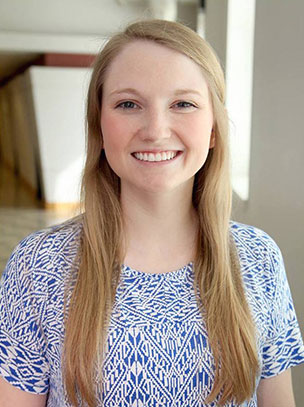 Lindsey Mirielli is passionate about advocating for students, but she never anticipated doing so in front of legislators in Washington D.C. She will get that opportunity when she presents her research at the Council of Undergraduate Research's Posters on the Hill, April 19-20.
Mirielli, a senior studying special education, began conducting undergraduate research on cyberbullying of students with disabilities when she was a junior at Mizzou, after being admitted to the College of Education Honors Program.
"I chose to apply for the [College of Education Honors] Program because I felt that the research sounded interesting and that it would help me as a teacher in the future," Mirielli says.
She initially became interested in research as a sophomore during an Intro to Special Education class with Assistant Professor Chad Rose. "I was very interested in the research Dr. Rose presented in class," she says. "Through that course, I could see how passionate he was for his research and for us as students."
After discussing possible research topics with Rose, the two decided on the somewhat "uncharted territory" of cyberbullying.
"I felt it would be interesting to look at cyberbullying rates because of the increase of technology used in schools," she says. The topic also aligned with her special education studies and her goal of giving students the support they need to be successful.
To understand how cyberbullying affects students with disabilities as opposed to students without, Mirielli analyzed data from nearly 15,000 surveys of students in grades sixth through 12th about their personal experiences with online victimization.
The results of her research showed students with intellectual disabilities were 2.74 times more likely to experience high online victimization and students with Emotional Behavior Disorder were 2.15 times more likely to experience high online victimization than their peers.
Moreover, she says, schools in Missouri are constantly incorporating more technology into the classroom, which is problematic given the rates of online victimization.
"By knowing which groups of students have a higher risk of online victimization, we can create programs to educate the teachers and students on cyberbullying and online safety," Mirielli says.
She has already presented her research to legislators in Jefferson City and was selected as one of just 60 students nationally to present her research at the highly competitive Posters on the Hill conference. Mirielli is the 10th MU undergraduate researcher to be selected for this event since 2005.
She will meet with legislators to discuss her research and advocate for change. She will also participate in a public poster session.
"I want to open up the conversation about bullying and its affects on students with disabilities so eventually more legislation will be created to address the topic," she says.
Mirielli believes her experience conducting undergraduate research has greatly improved her teaching skills and she is excited to use her research as a teacher next year at Battle High School in Columbia. She will teach during the day and earn her master's degree at night through the MU College of Education Fellows Program.
Mostly, though, she's eager to continue learning about and educating others on the problems students with disabilities face.
"My passion is special education," Mirielli says. "I am very passionate about advocating for students with disabilities. This research directly affects the students I work with daily."