Published on Sep. 4, 2015
Updated on July 15, 2019
The road from the University of Missouri to the National Institutes of Health (NIH) in Washington, D.C., is getting a lot of travel. Mizzou students continue to discover opportunities with the nation's medical research agency as three recent graduates, along with an MU senior, have gained positions at the NIH this summer.
Katie Wilsdon and Edward Duqum are working at the National Cancer Institute (NCI), while Dallas Pineda is with the National Institute of Dental and Craniofacial Research (NIDCR). All three earned degrees in biochemistry from MU in May and have garnered intramural training awards to conduct research at NIH. In addition, senior Nathan Coffey is interning at the National Institute of Alcohol Abuse and Alcoholism (NIAAA) after being accepted for the NIH Summer Internship Program.
At NCI, Wilsdon will be working to identify the changes in miRNA profiles after irradiation, then optimize and validate particular methods for developing this biomarker for radiation dose assessment. She credits her research experience as an MU undergraduate for broadening her knowledge and critical thinking skills, along with expanding her laboratory techniques.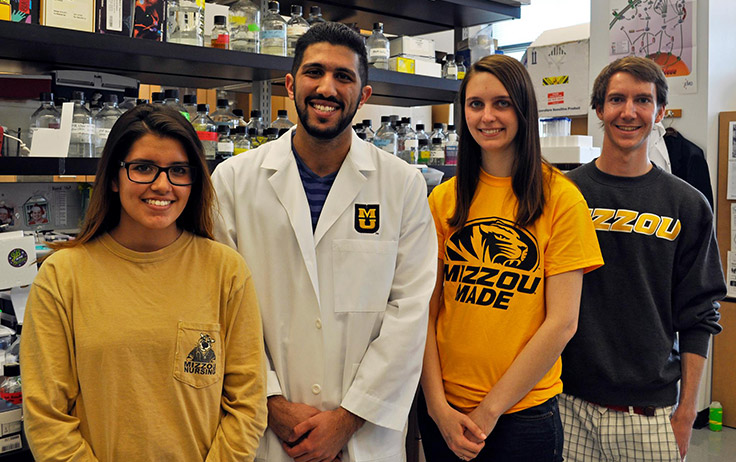 "I would like to strengthen my analytical and critical thinking skills while working at the NIH," says Wilsdon, a native of St. Louis, Missouri. "I also hope to improve my presentation skills and scientific writing skills to prepare me for my research career."
Like Wilsdon, Duqum views this experience as a chance to expose himself to a wider range of research techniques and skills, while developing new connections.
"My undergraduate research experience has given me a chance to see science being applied from a different perspective, allowed me to present at several conferences and meet many supportive and compassionate people along the way," says Duqum, who is from Chesterfield, Missouri.
At NCI, Duqum will study the functional genomics of liver cancer.
Pineda, from O'Fallon, Illinois, will research developmental mechanisms in salivary gland organogenesis at NIDCR.
"I am excited about all the techniques I'm going to learn from this experience," Pineda says. "I am also looking forward to all the networking and people I'll get to meet."
Pineda learned about the opportunities at NIH from former MU student Ellis Tibbs. "It was exactly what I was looking for as my next step toward my future career," she says.
Pineda will be moving into the same NIH research laboratory as Tibbs, who is finishing a two-year stint at NIH and will begin an MD/PhD program at the University of Maryland this fall. Tibbs and Pineda, along with Duqum, are alumni of MU's Initiative for Maximizing Student Diversity EXPRESS Program.
Coffey is from Wheaton, Illinois, and will be a senior at Mizzou in the fall. The biological sciences major is spending the summer conducting neuroscience research on a group of chemical messengers in the brain called endocannabinoids.
"These chemical messengers are important for regulating appetite," he says. "I will be investigating ways to inhibit endocannabinoids to decrease hunger and increase satiety, in order to develop treatments for obesity."
Coffey hopes that his time at NIH nurtures his career aspirations through mentorship from top graduate students and researchers.
The NIH is making important discoveries that improve health and save lives. The opportunity for these MU students—as well as many before them—to be part of that work provides valuable experiences as they embark on careers in research.