Published on March 2, 2018
Updated on Aug. 31, 2020
Tommi White, had two big decisions figured out by a very young age: she wanted to pursue scientific research, and she wanted to do it at the University of Missouri.
White achieved those goals and is now the director of MU's Electron Microscopy Core, which is a campus-wide resources center that provides electron microscopy services and technology to academic and private or industrial clients.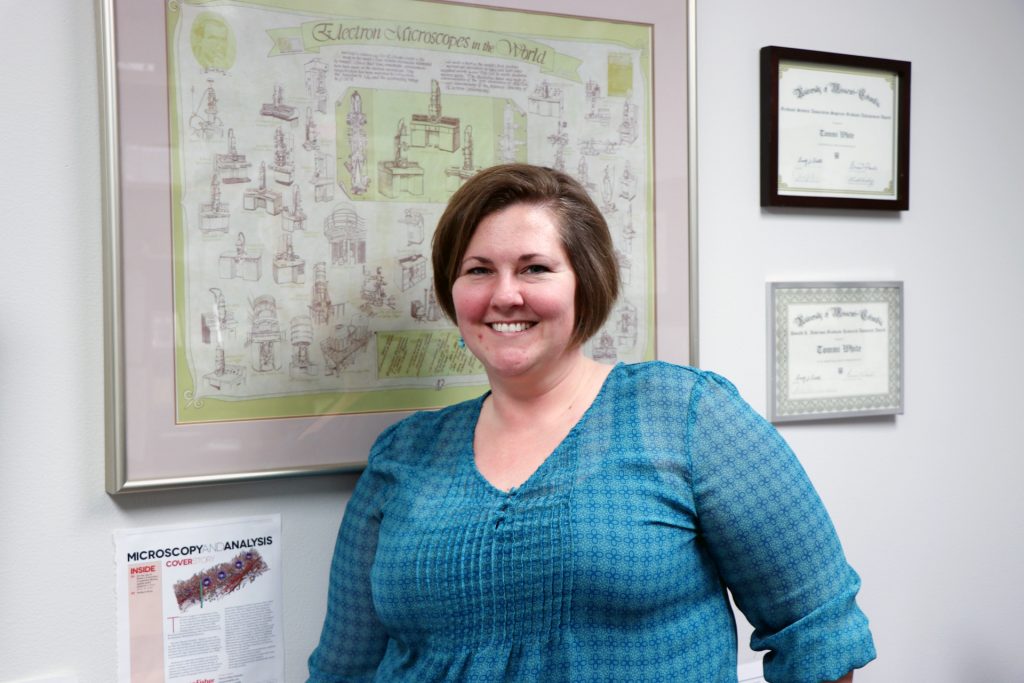 While White was still in high school, she attended two scientific programs affiliated with the UM System that helped her make her decision to come to MU. The first was a four-week research program—the George Englemann Math and Science Institute—on the UM-St. Louis campus. She later attended a conservation camp hosted by the MU College of Agriculture Food and Natural Resources (CAFNR) where she learned about forestry and forestry management with like-minded students from around the state of Missouri.
White started her undergraduate coursework at Mizzou as a fisheries and wildlife sciences major in 1997. A few months into her undergraduate degree, she became interested in biochemistry.
"What I liked about biochemistry was that there were a lot more areas you could go into," White says. "You could go into biotechnology, more of the chemical side, you could go into food science, cosmetics, pharmaceuticals…"
She decided to change the direction of her studies and started working in a plant research lab with Biochemistry Professor Bruce McClure. A lot of this study was spent in the greenhouse, pollinating and harvesting different plants to study self-pollination. The following summer, White continued researching plants in a lab at Monsanto in St. Louis, where she got her first introduction to electron microscopy.
Electron microscopy is a technique for capturing high-resolution images of specimens and investigating structural details by using electrons as the main source of radiation. Monsanto is a modern agriculture company that develops innovative tools for farmers to produce crops more efficiently—including crops that are genetically engineered to create a biodegradable plastic polymer, which is what White focused on during her time at the Monsanto electron microscopy lab.
When White returned to MU, she decided to focus more on undergraduate research. She worked with Professor Emeritus of Biochemistry Joe Polacco on cloning soybean arginase and screening for bacterial mutants that could grow on various nitrogen sources. White was recognized with a Soybean Merchandising Council award and was one of the first ever recipients of the Life Sciences Undergraduate Research Opportunity Program (LS UROP) summer award for her work in Polacco's lab.
Polacco says that the best thing about working with students is to watch their growth and accomplishments later in life.
"Tommi is a driver," he says. "I am so impressed with how seriously she takes her role at the Electron Microscopy Core. She hosted a dynamite speaker for our last Biochem Departmental seminar."
White's curiosity began to grow beyond the study of plants. She developed an interest for how biochemistry could be applied to drug development and human health and disease, and found another internship, this time focusing on a diabetes study and figuring out ways to lower blood sugar.
After graduating from MU, she returned to Monsanto (which had since merged with a pharmaceutical company called Pharmacia) and worked as a contract employee on a cholesterol drug project before returning to Mizzou for graduate school. At this point, White had been exposed to the world of precision medicine and wanted to do more with drug design.
"I thought that was such a cool idea to be able to screen for drugs or design drugs that were specific for a person or their enzyme, and I just kind of fell in love with that idea," White says. "I wasn't doing very creative or novel work at Pharmacia, and I wanted to do a little more exploration scientifically."
During graduate school, White worked with protein structures and X-ray protein crystallography, a technique used to study the molecular structure of a protein. This led to White attending her post-doctoral fellowship at the National Cancer Institute (NCI), which is part of the National Institutes of Health in Maryland. There, her focus was on cryogenic electron microscopy (cryo-EM), another technique that allows scientists to study the structure of biological macromolecules. Traditional electron microscopy requires the sample to be dehydrated to be compatible with the high vacuums required to control electron trajectories. This necessary dehydration usually alters the structure of biological specimens. Cryo-EM utilizes vitreously frozen samples maintained in the native, hydrated state to eliminate these problems.
"(The National Institutes of Health) was a great experience," White says. "I call it the playground for scientists. I got to work on some of the best instrumentation; we were always the first ones to have it and I worked with some amazing scientists."
In fact, the 2017 Nobel Prize in Chemistry was awarded to three scientists in the cryo-EM field, one of whom worked with White's post-doctoral adviser. White has implemented the method in the Electron Microscopy Core at MU.
White returned to MU to work at the Core in 2012. She describes her position as a bit undefined, though she had the support to hire great scientists and develop ideas for research.
"A lot of people just focus on the science or experiments, but for me, the people are who I very much value," she says. "I have a lot of colleagues in various electron microscopy fields. I hear what they're doing and what scientific microscopy methods are awesome right now, and then I try to implement it here at the Electron Microscopy Core. I talk to my staff and see who thinks it's a good idea. I always have the harebrained ideas and then the EMC staff usually pulls it off."
She has also taught some classes at Mizzou, including a special topics course titled Biochemistry 9001: Transmission Electron Microscopy in Protein Structure.
White says that there will likely be a significant investment in imaging capabilities from MU in the future, which would include the construction of a Translational Precision Medicine Complex (TPMC). This complex would bring together medicine and engineering and house medical doctors, clinicians, medical investigators and engineers to facilitate an interdisciplinary approach to medicine.