Published on March 2, 2017
Updated on Sep. 19, 2017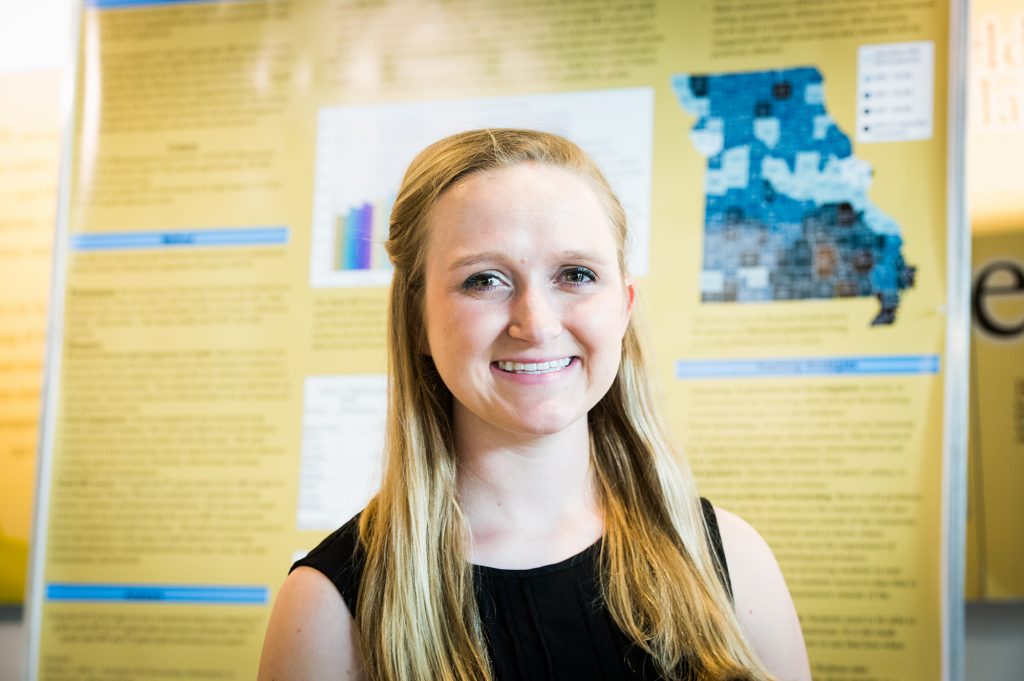 Senior Kara Schulte has learned a lot from conducting undergraduate research at Mizzou. However, the experience has also made her rethink her future.
"It's really kind of confused me, to be honest," Schulte says.
Since beginning college, Schulte's career plan has been to be a high school physics teacher, but her undergraduate research experience has led her to consider different paths.
"I love teaching," she says. "If I go into teaching I would love that, but I'm no longer 100-percent sure I am going to be a teacher because I really love research and I like being able to advocate for students on a more public level. I know I want to be in education, but I am not sure in what capacity."
Schulte graduates with degrees in secondary education and physics in May and then begins an educational psychology graduate program at MU in June. After that, she could see herself teaching, or getting involved in counseling, or becoming a college professor where she could teach and conduct research. Wherever she ends up, she wants to be an advocate for students.
She has an opportunity to advocate in April when she presents her research at Posters on the Hill in Washington, D.C.  Sponsored by the Council on Undergraduate Research, Poster on the Hill gives lawmakers in the nation's capital a better understanding of the importance of undergraduate research. Schulte will speak with members of Congress about her research and her experiences at Mizzou.
"I want them to know that undergraduate research is vital," Schulte says. "Undergraduates do a lot of the grunt work but it is vital in developing researchers for the future."
The research Schulte is conducting examines motivation and engagement of students and how those factors influence standardized test scores. The research breaks it down by gender and socioeconomic status. She has found it that motivation only impacts a small portion of the demographics studied, while engagement plays a role in all students.
"It is encouraging to see engagement have significant value because it means that teaching matters," Schulte says. "It shows why we need good teachers and why there should be a focus on education."
Schulte hopes to convey to the legislators that quality teaching matters. "You need teachers that are going to care about their students and really want to engage their students and get them learning," she says.
This will not be Schulte's first experience talking to lawmakers. Last year, she participated in the University of Missouri System's Undergraduate Research Day at the Capitol, where she spoke with state legislators in Jefferson City. She is attending that event again this year before going to Posters on the Hill.
"I'm being more active this time," she says. "I'm emailing all of the education committee members in the Senate and the House, and looking up bills to see who is on an education bill and emailing them to see if they will come see my poster. I am going to do the same thing for Washington, D.C."
UM System's Undergraduate Research Day at the Capitol is April 4 and Posters on the Hill is April 25-26. Over 300 students applied for Posters on the Hill this year with just 60 being accepted. Schulte is the 11th MU undergraduate researcher selected for this event since 2005 and the third in the last three years. She works with Stephen Whitney, a professor in the College of Education. This is the second-straight year that an MU education student has been selected for Posters on the Hill.