Published on Dec. 12, 2016
Updated on March 2, 2017
Four students from MU's Initiative for Maximizing Student Diversity (IMSD) program were honored at the 2016 Annual Biomedical Research Conference for Minority Students (ABRCMS).
The conference, which took place Nov. 9-12 in Tampa, Florida, is one of the largest professional conferences for underrepresented minority students pursuing advanced degrees in science, technology, engineering and mathematics.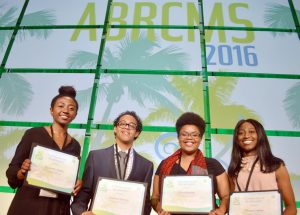 During the conference, more than 1,800 students from 350 colleges and universities presented research in biomedical and behavioral sciences and mathematics. Each presentation was judged with the ones obtaining the highest scores in each scientific discipline receiving an Outstanding Poster Award. MU students Erica Braham, T'Keaya Gaines, Dominic Romero and Elizabeth Okafor were among those honored with Outstanding Poster Awards.
"Receiving the award was amazing," says Okafor, a senior majoring in biological sciences and romance languages. "When my name was called, it was exciting and humbling to hear my fellow Mizzou researchers cheering me on and congratulating me on getting the award."
Okafor's poster was titled "Reduced Inflammatory Response in Children with Plasmodium Falciparum Asymptomatic Paraistemia in a Low Transmission Area." She is mentored by Walter Gassmann in the department of plant sciences.
For the last six years, at least one MU student has received an Outstanding Poster Award at the conference. IMSD director Brian Booton says MU is among rare company when it comes to this level of consistency.
Along with presenting their research at the conference, MU students had the opportunity to meet representatives from college and university graduate programs and scientists from government agencies, foundations and professional scientific societies. The representatives shared information about graduate school, along with internship and research opportunities.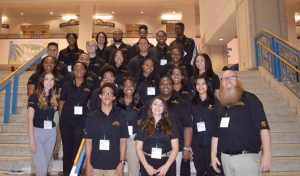 "The professional connections and networks that I'm attempting to build definitely grew over the course of the four days we were at the conference," Braham says. Braham is a junior majoring in health sciences. She presented on the topic of "Congruence in Adolescent and Parent Reports of Depressive Symptoms in Children Who Display Moderate to High Levels of Aggression." Brahman's faculty mentor is Elizabeth Parks in the department of nutrition an exercise physiology.
Gaines, a senior biochemistry and psychology major, is mentored by Jaume Padilla in the department of nutrition and exercise physiology and presented a posted titled "Loss of Ucp1 Disrupts Glucose Metabolism in Female Mice."
Although many students enjoyed networking at the event, Romero's favorite part of the conference was listening to a speech by best-selling author Wes Moore.
"He reminded us that we belong to the science community and that we are exactly where we are supposed to be," Romero says. "He told us to keep on pursuing our dreams despite what anyone may say. The combination of hearing his motivating words and realizing that I am surrounded by brilliant minds gave me this affirmation that I belong and that I can be successful at science."
Romero is a junior majoring in bioengineering and presented a poster titled "Synthesis and Characterization of Hydroxyapatite Nanoparticles." His mentor is Shelia Grant in bioengineering.
Braham also felt inspired and encouraged during the conference. For her, the highlight of the event was meeting and spending time with hundreds of intelligent students, leaders and scientists.
"There was a lot of hope there for marginalized communities, and it was amazing to see that despite the fact that minority communities often struggle to be appreciated, we continue to reach amazing heights," Braham says.
Sixteen MU undergraduate students in the IMSD program presented their scientific research in Tampa. These students have worked with faculty mentors from 11 different departments at MU.