Published on Sep. 18, 2019
Updated on July 1, 2020
Visual Art & Design Showcase 2020
Zach Johnson's work appeared in the Visual Art and Design Showcase (VADS), an annual celebration open to all MU students regardless of major. Applications for the 2020 VADS open Oct. 1, and require a faculty mentor of record upon submissions (the deadline is Nov. 1).
More than 50 students participated in last year's event, which celebrates faculty-student mentorship and distributes $8,000 in professional development funds.
"VADS combines all the different facets of visual art — film, design, architecture, painting, to name a few," Johnson says. "It also gives people a chance to see your work."
Zach Johnson came to MU from the Missouri Bootheel unsure of his academic path. A two-sport athlete who captained the Senath-Hornersville High School baseball and basketball teams, he quickly realized college athletics probably wasn't in his future.
"I thought I would pursue a career and try to make as much money as I could, maybe for a sustainable agriculture organization," Johnson says. "But I did a year of agricultural economics and hated it. I was incredibly sad."
Johnson took solace in creating art, a dormant hobby from his younger years. Back then, he says, his tastes were typical of boys his age — superheroes, dragons and dinosaurs. He would draw temporary tattoos on classmates' arms and make sketches for friends, all with painstaking attention to detail.
So, when Johnson stumbled across a box full of his childhood art while he was home for his first college summer, he broke down in tears.
"I decided this is what makes me happy, this is what I'm good at and it'd be a shame if I didn't do this for the rest of my life," says Johnson, now a senior. "The next day I enrolled in Mizzou's art program."
It was there he met his mentor Chris Daniggelis, associate professor of art in the School of Visual Studies. Despite being from seemingly disparate backgrounds, the printmaker from Queens, New York, and the fledgling from southeast Missouri formed a kinship. Daniggelis, who ran track in college, encouraged his mentee to dedicate as much time to art as he once did to practicing sports.
"In a lot of ways, there's no bigger hick than a New Yorker," jokes Daniggelis, sporting a Yankees T-shirt and matching Big Apple accent. "I relate to a lot of the students from rural Missouri when they come in because they see in me a kind of garage-mechanic's approach to things."
Johnson was all in. He fully committed himself to creating works that incorporate painting, drawing, silkscreen and collage to explore the complex topics of mass communication and information in the modern age. Using bright colors on stark backgrounds and pop-art iconography — comic book speech bubbles, QR codes, TV screens, etc. — Johnson arranges familiar items in unexpected ways.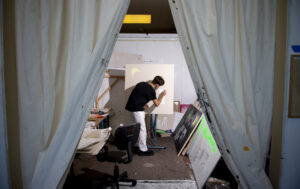 "I noticed right away that Zach has a great 'hand' in that he can create very good representational art — self-portraits and still lifes," Daniggelis says. "But he sacrificed those comfortable skills to do some really risky, aesthetically challenging paintings."
Johnson's work appeared in the 2019 Visual Art and Design Showcase at Mizzou, and later landed him in the prestigious Yale Norfolk Summer School of Art, a program that accepts only 26 students every year. The six-week residency allows rising-senior artists to live, learn, create and critique together at one of the nation's elite art schools.
"Everyone was incredibly brilliant, open minded and welcoming," says Johnson, who is also president of the MU Student Arts Community. "We had classes in photography, printmaking, graphic design, sculpture — and lots of discussion. And there was no drama the entire time, which is hard to do for a month and a half with a bunch of 20-somethings."
Johnson plans to participate in the 2020 Visual Art and Design Showcase, too. And it's a good bet that graduate school is on the horizon.
"One of the best things someone told me [at Yale] was to stop thinking so much, stop planning so much," Johnson says. "Surprise yourself, because if you don't surprise yourself, it stops being fun. I think my work in the near future is going to be a lot less constructed, a lot less clean.
"I'm excited about it."