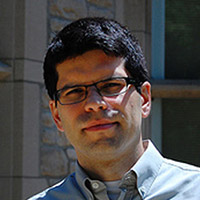 History
For Daniel Domingues, an assistant professor of history, teaching is more than what takes place in the classroom; mentoring is just as important.
"Mentoring means guiding students through the forest of knowledge," Domingues says, "warning them of potential pitfalls and encouraging them to be all that they can be."
Domingues' efforts as a mentor have proven successful and helped him earn the 2015 Outstanding Undergraduate Research Mentor Award.
"I enjoy being able to stimulate students' intellectual curiosity, show things from a different perspective, and help them achieve their career and life goals," Domingues says.
In nominating Domingues for this award, one mentee credits Domingues for showing how to conduct a successful research project, while also providing a valuable experience that will aid the student toward an influential career.
Another student describes Domingues' passion for ensuring students succeed. "I have never had a professor show the same level of interest in student achievement," the student says. "Professor Domingues has been the most impactful faculty member that I have encountered throughout my time at the University of Missouri."
To Domingues, this honor indicates that students value the role that faculty mentors play in training the next generation of researchers.
A colleague of Domingues explains in a nomination letter how Domingues goes beyond teaching new research methods, by enabling students to present their work in published and digital form as undergraduates.
Follow Domingues' research and teaching activities on Academia.edu, Facebook, or LinkedIn."