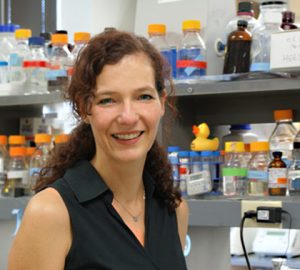 Biochemistry
If someone were to eavesdrop on the conversations taking place in MU biochemistry professor Antje Heese's lab, it is possible they will happen upon a discussion that does not pertain to science or research.
"I know that whenever a new blockbuster Marvel or DC Superhero movie comes out, I can expect an energetic discussion with Dr. Heese the next time I am in the lab," wrote one of Heese's students in a letter nominating Heese for the Outstanding Undergraduate Research Mentor Award.
Whether is it reviewing movies or explaining what it takes to be a successful researcher, Heese has a special ability of connecting with her students.
"An aspect of Dr. Heese's character that I feel sets her apart from other faculty is the ease at which she connects with students," another student nomination read.
Heese places great pride in mentoring students that has led to her receiving the Outstanding Undergraduate Research Mentor Award for 2018.
"The training and mentoring of undergraduates are different than any other aspect of my job as an associate professor in biochemistry," Heese says. "They provide me with energy, fulfillment and also purpose."
Most of the students in Heese's lab join as freshmen and remain in the lab until graduation.
"This allows me to watch them grow over several years, sometimes from shy and quiet individuals into confident lab members that assume responsibilities and leadership within my lab," Heese says.
"However, one of the most rewarding moments is to see the pride in my undergraduates' eyes when they have their work displayed or acknowledged—whether this is holding their first poster in their hands or receiving an award for a fellowship application. I truly enjoy seeing their—sometimes sudden—realization of how much they have accomplished and learned over a semester or a year working in the lab."
Each undergraduate researcher in her lab is actively involved in bench research and has his or her own research project, inspiring them to take "ownership" and increasing their commitment towards their project.
Heese strives to help students reach to their fullest capacity.
"For me, this means listening carefully to each student's future goal and ambitions," Heese explains. "Such knowledge allows me then to tailor my mentoring and training efforts towards advancing the skill sets and potentials of each individual undergraduate –whether she or he plans to pursue a Ph.D. in the life sciences, attend medical, dental or law school or work towards a career in industry."